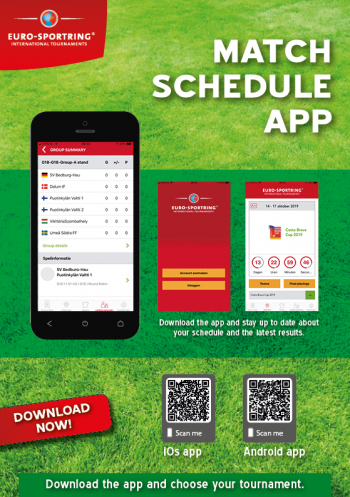 Dear reader,
Unfortunately we are forced to inform you that the Montafon Alpine Trophy will not take place.
Since the outbreak of the Corona virus we have followed the developments closely. For a long time we hoped that the event could take place. However, the outbreak has only worsened in recent months, resulting in the cancellation of the complete program in Austria.
We are very sorry for you and our partners in the first place. We would have liked to offer you a challenging sports weekend. All clubs have been informed by now. If you still have questions, please contact your Euro-Sportring contact person.
Euro-Sportring thanks you for your trust, supporting messages and understanding. We will make sure that in 2021 there will be a new tournament program ready for you.
See you at one of our Euro-Sportring tournaments.
Rogier de Kreek | General Manager
Euro-Sportring introduces: The Euro-Sportring Match Schedule App

Download the app and see your match schedule, actual results, standings and the latest information about your tournament. Download here.
WIR FREUEN UNS BEREITS AUF DIE
13. Monafon Alpine Trophy
12. - 14. Juni 2020
auf den Sportplätzen in
Gaschurn, St.Gallenkirch, Schruns-Tschagguns, Vandans
Du möchtest mehr über das Montafon erfahren?
Unter www.montafon.at findest Du alle Informationen für Deinen sportlichen Aufenthalt im Süden Vorarlbergs!